Explore the best golf rangefinders with slope 2024, ensuring precision and innovation for your game.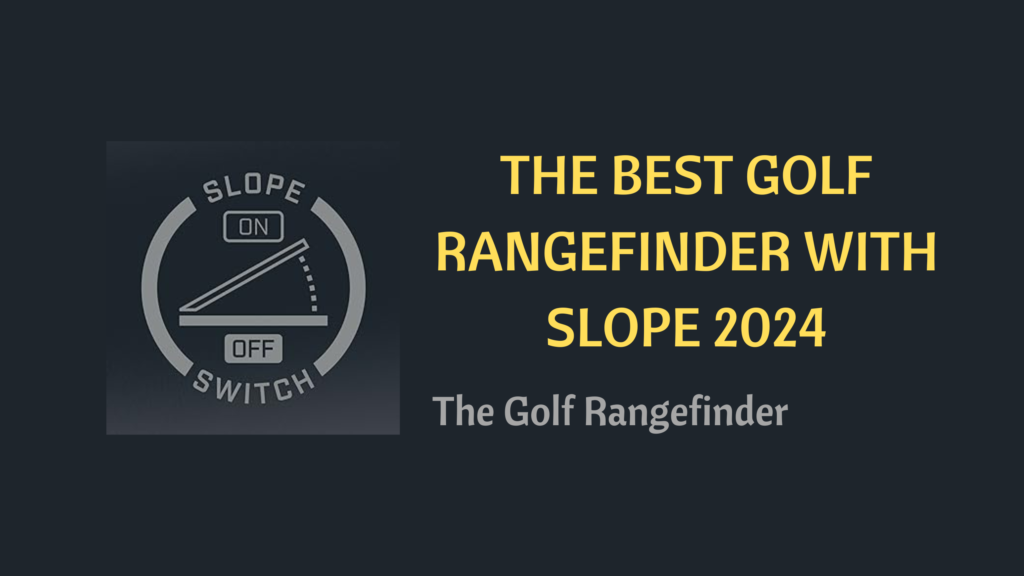 In the ever-evolving world of golf technology, finding the right equipment is crucial. As we step into 2024, let's delve into the top-rated golf rangefinders equipped with slope functionality that promise to elevate your game.
Slope functionality is a game-changer in the world of golf rangefinders. It calculates the uphill or downhill slope, providing you with adjusted yardages to make more informed club selections. As golfers seek that extra advantage, slope technology becomes a crucial factor in enhancing performance.
Best Golf Rangefinders with Slope 2024
Table of Contents
1. Bushnell Pro XE Golf Laser Rangefinder
Slope technology with elements like "Slope with Elements" for temperature and barometric pressure adjustments.
Pin Seeker with Visual JOLT Technology for target confirmation.
Dual Display Technology for bright, clear visuals in any lighting conditions.
Water-resistant design for durability in various weather conditions.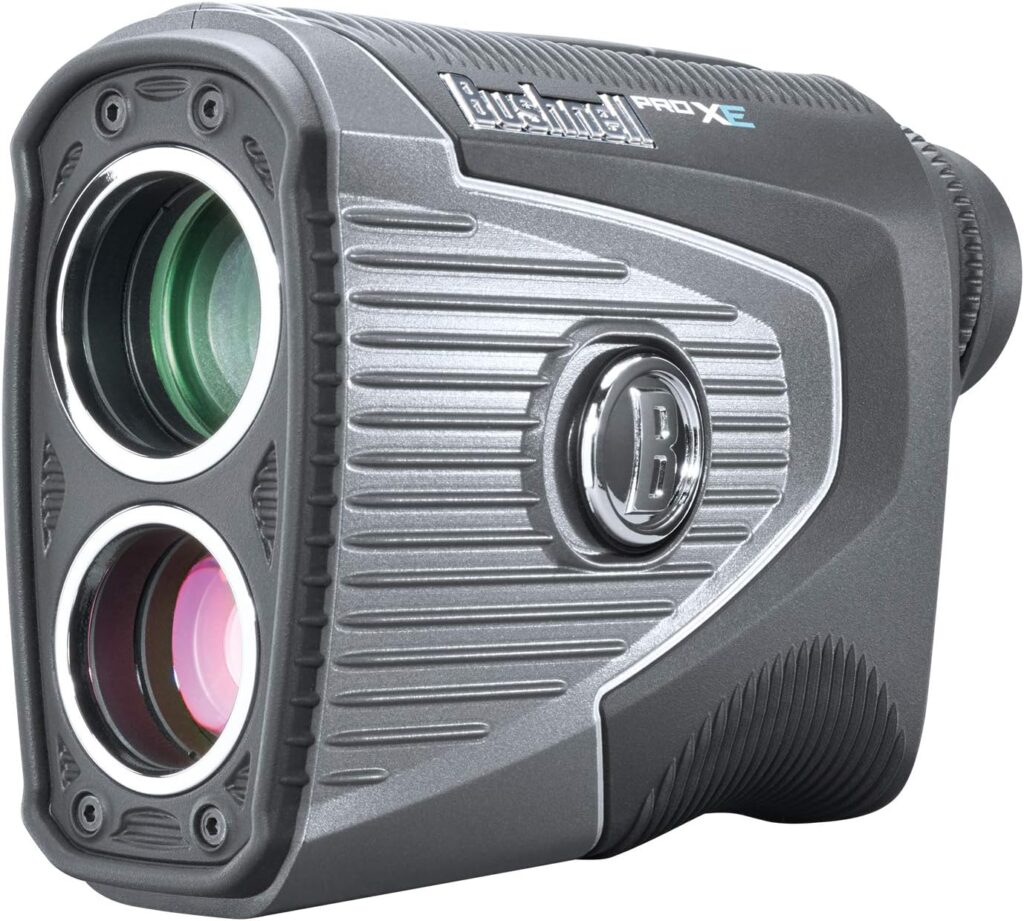 Slope with elements

Pin seeker with visual JOLT technology

Built in bite magnetic cart mount

Positive click slope switch

Range is 5-1,300 yards
Buy from Amazon
Check out our full article on Bushnell Pro XE Laser Rangefinder Review
User Manual (PDF) for Bushnell Pro XE
2. Nikon COOLSHOT Pro II Stabilized Golf Rangefinder
Advanced stabilization technology for reduced hand movements and steady targeting.
Slope technology for precise adjusted distances on elevation changes.
Hyper Read technology for quick and accurate measurements.
OLED display for high visibility.
STABILIZED Counteracts hand shake and other environmental factors to steady the view and ranging laser
DUAL LOCKED ON ECHO Visual and audio cue that you are ranging the flag and not something behind it
HYPER READ laser provides quick and stable measurement response regardless of the distance in .3 seconds or less
Waterproof and Fog proof
ID TECHNOLOGY Delivers the one number you need for your best shot to account for incline or decline shooting angles
Buy from Amazon
Check out our full article on Nikon COOLSHOT PRO II Stabilized Review
3. Precision Pro NX9 HD Slope Golf Rangefinder
HD Optics for clear and sharp images.
Slope mode with Adaptive Slope Technology.
Pulse Vibration Technology for target confirmation.
Water-resistant and shock-proof design.
The Precision Pro Golf NX9 Slope Golf Rangefinder is the ultimate golf accessory to locate precise distances within one yard.
The built-in magnet keeps the rangefinder secured to the golf cart.
Built with crystal clear optics, 6X magnification, and precise technology, the NX9 Golf Rangefinder produces quick yardage of a golf distance finder to the hole and is easy to use, even for golfers with shaky hands.
This laser golf rangefinder is accurate within one yard, has a 900-yard range capacity, and displays 1 yard measurements golf distance rangefinder.
Buy from Amazon
User Manual (PDF) for Precision Pro NX9 HD
4. Callaway 300 Pro Golf Laser Rangefinder
Slope technology with the option to turn it off for tournament play.
Pin Acquisition Technology (P.A.T.) for quick and precise target locking.
6x magnification for a close and detailed view.
Compact and lightweight design for easy portability.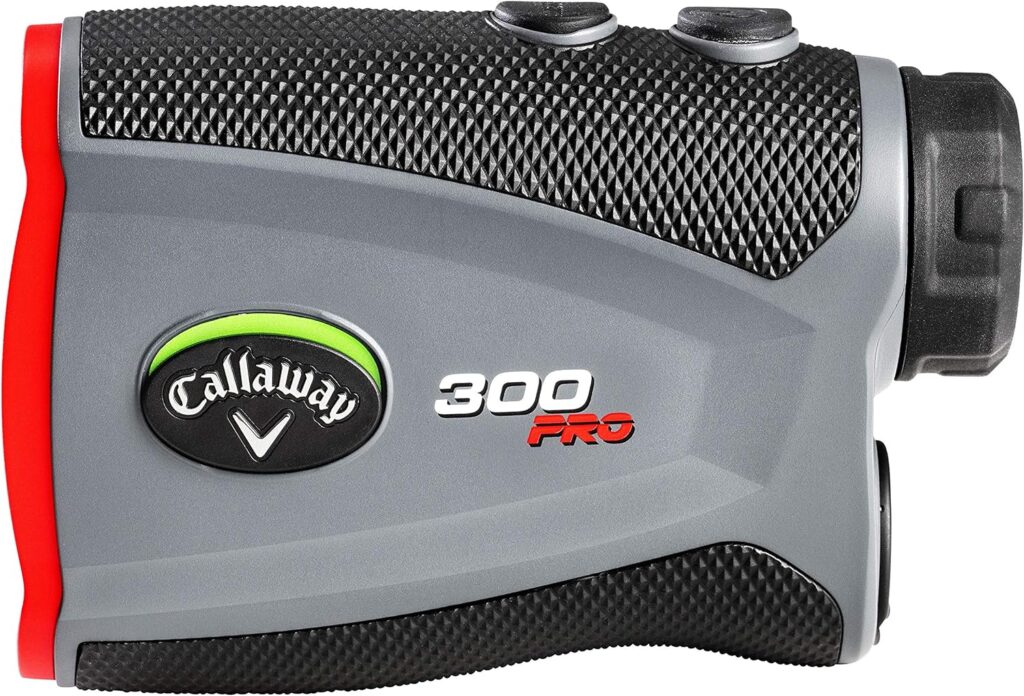 Precise Slope Measurement: Our highly accurate laser rangefinder accounts for elevation changes and measures the angle of incline/decline, then calculates the slope adjusted distance
Maximum Magnification: Equipped with 6x magnification, our rangefinders for golfing feature a range of 5-1000 yards with +/- 1 yard accuracy and even measure in both yards and meters
Pin-Locking Technology: Our precise laser measure with Pin Acquisition Technology (P.A.T.) allows you to lock onto a pin up to 300 yards away
Pulse Confirmation: Our range finder will emit a short vibrating "burst" when the laser locks onto the pin to confirm you have the correct distance
External Slope On/Off Switch: Legal for tournament play
Buy from Amazon
User Manual (PDF) for Callaway 300 Pro
5. Garmin Approach Z82, Golf GPS Laser Rangefinder
Full-color 2D Course View mapping for better course navigation.
Hazard view for detailed information on course obstacles.
Image stabilization for a steady view and accurate targeting.
Slope technology for adjusted distances based on elevation changes.
Most accurate laser range finder on the market within 10" of the flag, up to 450 yards
Image stabilization makes it easier to find and range the flag for precise distances to the pin; vibrational feedback lets you know when you've locked in
Full-color 2-D CourseView mapping for more than 41,000 courses worldwide overlaid on the viewfinder
The Laser Range Arc feature draws an arc on the 2-D CourseView map at the distance the laser ranged, so you can see everything in play at that distance
Hazard view allows you to quickly scroll through each hazard on the map
Buy from Amazon
User Manual (PDF) for Garmin Approach Z82
When selecting best golf rangefinders with slope 2024, consider your preferences and playing style. Each of these rangefinders offers unique features catering to different golfer needs. Whether you prioritize stability, innovation, or sleek design, there's a perfect match for every golfer.
Conclusion
As you gear up for the golf season in 2024, equip yourself with a rangefinder that aligns with your playing preferences. These top-notch devices with slope functionality promise to enhance your accuracy and elevate your overall golfing experience. Make your shots count with the best in golf rangefinder technology.
Before making a purchase in 2024, We recommend checking for the latest reviews and product releases to ensure you get the most up-to-date information on the best golf rangefinders with slope functionality.